Good Top Tip Tuesday Morning To You!
What gorgeous Easel Drawer Cards we saw last week - we'd like to say a HUGE Thank You to each and every one of you who followed Katrina's Tutorial - wasn't it great!
And of course Thank You to those of you who entered the challenge following the Straight Edges theme - we did have a few cards that didn't quite fit in with 'Straight Edges' so were not eligible for a prize - but they were gorgeous all the same :)
And another special Thank You to those of you who left Top Tips - I've now got some awesome ones jotted in my 'Top Tip Testimonial'
Before we proceed with this weeks delights I want to tell you of a very important date...
We will be holding a Birthday Bash you wont want to miss!
We have some fantastic prizes up for grabs that week from Digi Images and Vouchers to Die Cuts and Goody Bags....in total about £200 worth! Mark it in your diary now!
Have you voted yet on what the Birthday Bash Challenge should be?
The last time I looked Easel Card was in the lead.....if you'd rather 'Recycle' or 'Anything but a Card' make sure you vote now as it is closing very soon!
***************************
Unfortunately 2 of our amazing DT are leaving us this week - Judy and Paula have decided it is time to stand down from TTT :(
We'd like to send them huge Thanks and Hugs for all of the wonderful work they have done whilst with us. It'll be good to see them linking up their Top Tips now :)
Thanks Girlies :)
***************************
Ok - I've kept you long enough so wont bore you with the usual 'Housekeeping',
you know the rules - if not they're are in the tab at the top of the page.
a Centre Step Card Tutorial
by Maggie
and we have a
Thank You
theme.
*******************************************************
This week we have more fantastic sponsors...
Inky Impressions
is a rubber stamp company carrying images of the cutest little girls and animals. The inspiration of the stamps comes from the owner Nicole's little girl, MarLeigha (LiLi). Each Wednesday Inky Impressions has an
Inky challenge
hosted by their own Inkettes and if you participate each week, you are eligible to win a special goodie bag from the store at the end of the month. You can also catch some daily inspiration from all of the Inkettes on the
Inky Impressions Inspirational Blog
!
Come play along with the fun and get inky..we dare ya!"
*******************************************************
Dew Drop Craftz
Who are offering one lucky winner a £10 gift voucher to use in their shop.
DewDrop Craftz is a UK online company specialising in digital images with a difference and other crafting goodies. Authorised distributors of the fantastic Cougar electronic cutters and Foil Master machines. Now also stocking wall art and tile art - that something a little different to add to your home.
*******************************************************
It's my turn this week so I've prepared a tutorial on
how to Make a Centre Step Card.
Piece of card measuring 6x9.5inch.
Scoring tool and scoring board – I've used a box maker by Crafter's Companion
Craft Knife and a steel edge ruler
(This is the box maker. The score lines are approx. 1 inch apart)
I've used the 'Box Lid' side of the box maker.
Put your piece of card on the scoring board 'right side' down.
Score at the 2nd and the 8th line from the left.
4th, 8th and 10th line from the left but make sure you DO NOT go from one edge to the other.
Using your craft knife and a steel edge ruler cut where it's marked in RED.
This is what you should end up with after cutting...
Turn the piece of card upside down
(The right side up!)
And fold where you can see score lines.
The first set of score lines should be a mountain fold...
The second a valley fold...
The remaining two mountain folds...
Top Tip...
Valley Fold - like a V...fold from the base up.
Mountain Fold - Like an M...fold from the top down.
It's up to you how you embellish your card!

Now let's see the rest of the team's offerings for our 'Thank You' cards.
Some have followed my Tutorial - I hope you do too ;)
Heike
Moriah
Lisa
Bettina
Tip: To complete the card use some of the same decorations on the inside as well as the outside.
Tammy Louise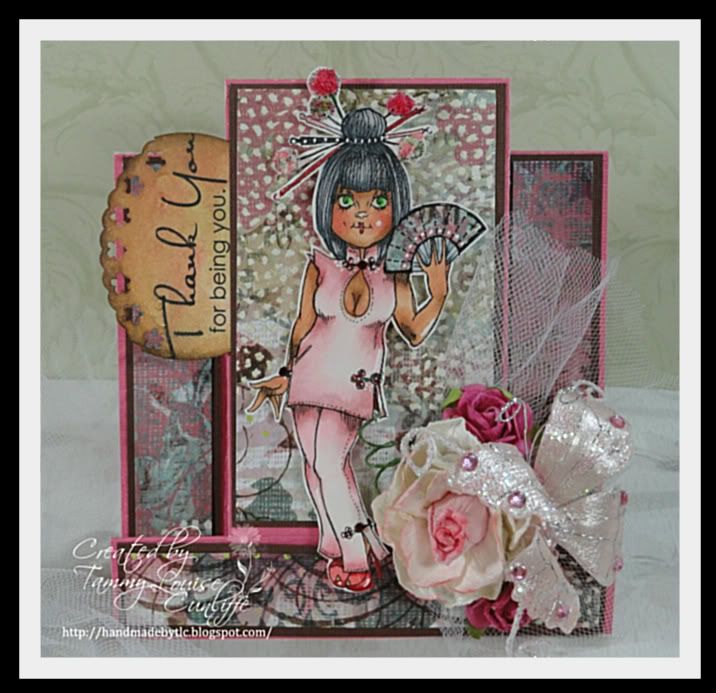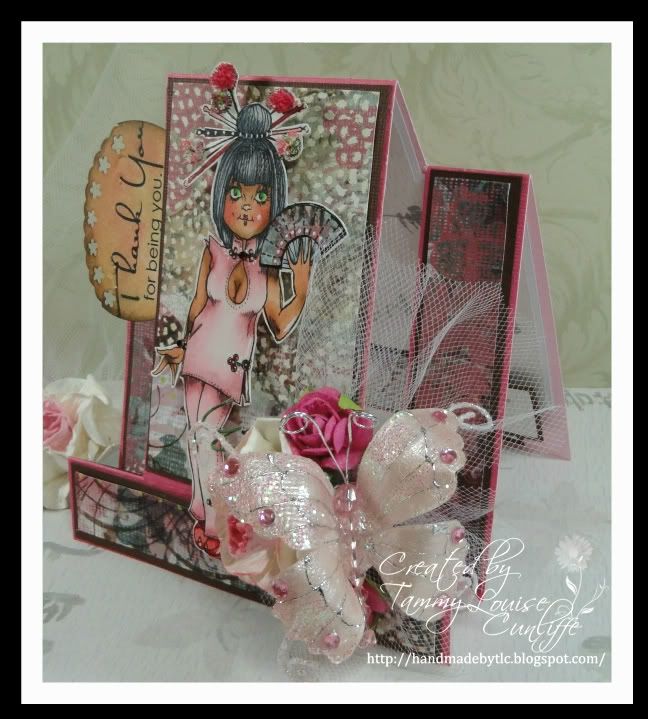 Tip: For more depth, the top and/or bottom of image can hang over center of the step card
Samantha
We hope you've enjoyed our Tutorial this week and really look forward to seeing your Centre Step Cards.
Don't forget we want to see your Top Tips too - however big or small they are!
It's amazing how many people add a tip in their write up and don't even realise it!